CT Dual Head Pro+
Sale price

$3,699.00

Regular price

$3,099.00
Add to Cart
Features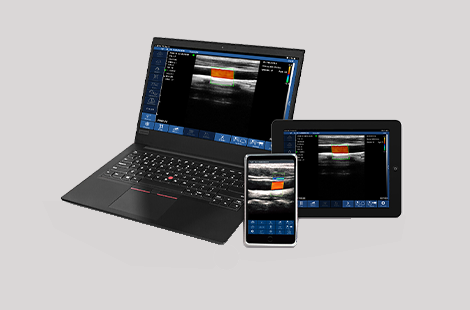 Compatible with Android, iOs and windows applications.
No internet required, Internal built-in Wi-Fi signal.
Privacy protect,No cloud storage. Save data on your own device.
FAQ
How do your scanners work?

We sell "mini-scanners" that do not have screens. We also minimize the size of the device circuit board to make it smaller and easier to handle. When used, the scanners use sound waves to produce an image which is then sent to a connected smartphone or tablet. Our devices are wireless and do not need an exeternal Wi-Fi signal to operate. They produce their own signal from a chip located inside them.

Is ultrasound scanning safe?

All indications are that it is safe. There are no known harmful side effects and the scanning produces no discomfort. Ultrasound does not use radiation like X-rays.

What devices is your probe compatible with?

IOS: ios 12.3 or later iPhone : 4 S,5,5 C, 5 S, 6, 6 Plus,7,7 Plus,8,8 Plus,X,X R,XS,XS Max, SE (2nd gen),11,11 Pro, 11 Pro Max, 12 Mini, 12,12 Pro ,12 Pro Max. iPad : Air 2, Air (3rd gen), Air (4th gen), iPad Pro series,iPad mini (5th gen), iPad (8th gen). Android : Android 10 . or newer.

How to use DR.SONO wireless probe?

What you need:iPhone or iPad or smartphone with android version. ultrasound scan software ( wireless scanner APP) 1. Install our wireless scan APP on a phone or iPad 2. Begin to scan using the APP 3. Application: the wireless probe is mainly used for inspection, home visits, POC, remote areas medical care, and some home health care markets.
See more
Benefits
Pocket-sized and Portable
Slightly bigger than smartphones and easy to carry around.
Wireless Flexibility
It is freer to use since it is wireless and not tethered by a probe cord.
Convenient Remote Diagnosis
Share diagnostic results with colleagues via phone or tablet.
Excellent Image Quality
Advanced digital technology produces crystal clear imaging.
Waterproof Design
Waterproof design for easy disinfection and avoiding cross-contamination.
Whole-Body Scan
Two probes are integrated for a wide range of applications and no radiation. You can simply flip the probes to meet different inspection needs.
No Required Membership
One-time purchase without any additional subscription or membership fees. And unlimited user access for easy remote assistance and training.
Highly Cost-Effective
One device integrates 2 different scanning modes.Less costly than purchasing two separate probes.
More Features

Free
Shipping

1 Years Warranty

Reliable Quality

CE & ISO & FDA
What is in the box
CT Dual Head Pro+
Charging Cable
Strap
Quick User Guide
Warranty Card



Reviews
I believe the image quality produced by the Drsono ultrasound scanner is even better than those produced by our large cart units. Add that to the fact that it is much easier to move around and get in position and the choice is clear – Drsono is the best. This scanner is easy to use and it is also very easy to clean.
Drsono ultrasound scanners are terrific. They offer everything you could want – from wireless connectivity to a small, portable size to crystal clear images. I highly recommend these devices.
Recently I ordered Drsono's dual head wireless probe. These dual heads were very useful for multiple uses. I faced no problem cleaning the transducer. There was no wire so moving around was super easy. Once some water drops fell on the transducer and no damage occurred.The images were very high quality and user friendly. We found very clear images of hearts, carotid arteries and livers. We are thinking of using this device in our vasectomy services.