CPL Dual Head Pro+
Sale price

$4,215.00

Regular price

$3,315.00
Add to Cart
Features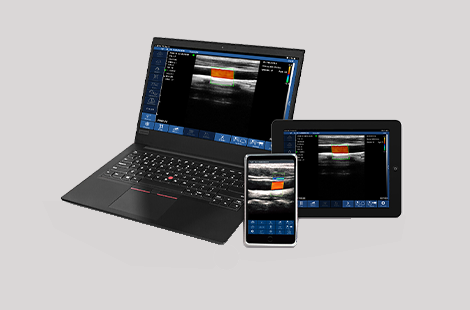 Works with iPhone, Android and Windows.
Internal WIFI from the probe, no need external Wifi signal.
Privacy protect,No cloud storage. Save data on your own device.
FAQ
What's the difference between high-frequency and low-frequency ultrasound?

Higher frequencies provide better quality images but are more readily absorbed by the skin and other tissue, so they cannot penetrate as deeply as lower frequencies. Lower frequencies penetrate deeper, but the image quality is inferior.

What are the steps of an ultrasound examination?

●Applying gel to the probe and patient. ●Placing the probe onto the patient and observing the images on the screen. ●Adjusting the settings to achieve an optimal view.

How can I set it up to achieve the best view?

●Gain : Adjusting the gain of an ultrasound changes the brightness of the image. The gain should be adjusted until fluid appears black and soft tissue appears mid-grey, with some parts of the image appearing white. ●Depth : Depth measures are shown in cm on the side of the ultrasound monitor. It is often best to begin deep to orientate yourself and then work more superficially to bring the object of interest into the middle of the screen.

What are some general tips for getting the optimal view?

●Use enough gel. ●Make sure the probe is in good contact with the patient's skin. ●Dim the lights in the house. ●Make sure the probe is perpendicular to the skin.
See more
Benefits
Portable and Pocket Fitting
Easy to carry around in your pocket whenever or wherever.
Waterproof and Safe
The whole probe has a waterproof design for easy disinfection.
Wireless Connectivity
Wireless design makes it convenient and easy to use.
Simple Remote Diagnostics
Manage data on app and share results with colleagues via smartphone.
Superior Image Quality
Amazing image quality because of advanced imaging technology.
Whole-Body Diagnostic Imaging
The model is equipped with three scanning modes simultaneously, a wide range of applications and no radiation. You can switch from superficial to deep inspection by simply flipping the probe.
No Hidden Fees
One-time purchase without any additional subscription or membership fees. And unlimited user access for easy remote assistance and training.
Highly Cost Effective
Less costly than purchasing three separate probes, one device is equipped with three different scanning modes:Convex , Linear , Phased Array.
Discover Every Slight Anomaly
Pause at any time during the scan to detect abnormal events that occur in the patient. Capture clinical images and video clips and get detailed measurements in seconds.
More Features

Free
Shipping

1 Years Warranty

Reliable Quality

CE & ISO & FDA
What is in the box
CPL Dual Head Pro+
Charging Cable
Strap
Quick User Guide
Warranty Card




Reviews
I recently started using two different units of bedside ultrasound and renal biopsy guidance. One of the great things is that you can use the sterile sheaths that the hospital has in stock to cover the devices with homemade needle guides. You don't have to worry about a cord at all. This device is super light and has a smooth touch. The best thing is its connectivity with smartphones. So no extra device is needed for tracking device activity.
This device is amazing. I can perform ultrasound scanning anytime I want. The picture quality is very clear. I am a gynecologist. For my job this device is a lifesaver. With these clear images I can monitor pregnancy progression easily. I can perform fatal morphology assessment and track the health and development of the fetus.
The only thing that exceeded the buying experience we had with Drsono was the quality of the device we received. Everything about Drsono is first class. We received timely email confirmations, fast shipping and the ultrasound scanner we received is everything that was promised. It is small, portable and delivers precise imaging.
Drsono ultrasound scanner has revolutionized our medical practice. It makes seeing and diagnosing conditions so much easier. I literally carry it from exam room to exam room now because it is so valuable. Now I can get a crystal clear image whenever I need it. Plus, the device fits comfortably in my lab coat pocket! I love everything about my Drsono scanner and plan to get more in the future.