Top 5 portable Ultrasound Scanner | Convex Probe
A wireless ultrasound scanner is a revolutionary product. Ultrasound scanners are widely used all around the world for medical purposes. 
[It's been in use for an extended period, but we have been using a wired ultrasound scanner. 
Time has changed now. Technology is at its peak. The wireless ultrasound scanner has replaced wired scanners. 
Convex Transducer:
Convex ultrasound transducer, also known as the curved transducer due to the curvilinear piezoelectric crystal arrangement.
Furthermore, the beam is convex, and the transducer is suitable for in-depth examinations.
Even though the image resolution decreases as the depth increases, the footprint, frequency, and applications of the Product are also affected by whether it is for 2D or 3D imaging.
The convex transducer for 2D imaging, for example, has a large footprint and a central frequency of 2.5MHz – 7.5MHz.
It can be used for tests such as:
Abdominal
Vascular\sNerve
Musculoskeletal
OB/GYN
Transvaginal and transrectal incontinence
Organ syndromic diagnosis.
The 3D imaging convex transducer has a wide field of view and a central frequency of 3.5MHz – 6.5MHz.
The scanner can use for abdominal examinations.
In addition to convex transducers, there is a subtype known as micro convex transducers. It has a smaller footprint and is typically used by physicians in neonatal and pediatric applications.
Here are the top 5 market contenders for portable ultrasound scanners convex probes.
Clarius C3 HD
Healthcare experts recommend the Clarius C3 HD multipurpose scanner's portability, ease of use, and high-definition imaging for full-body imaging up to 40 cm. It is one of the top options for medical professionals looking for high-quality imaging in a low-cost scanner. AI specialized presets and customizable workflows optimize imaging automatically for a seamless experience.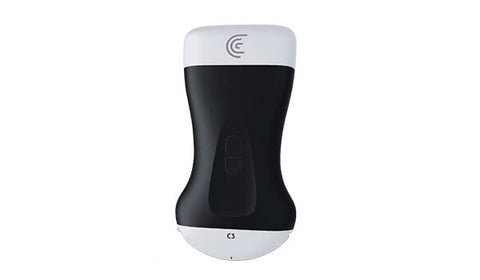 Specs: 
Frequency: 2–6 MHz 
Max Depth: 40 cm
Programmable Button: 2
Field of View: 73°
Dimensions: 146 x 76 x 32 milimeter
Weight: 308 g (0.68lb)
Mobile Platform:
Clarius HD3 portable ultrasound provides best-in-class performance for your speciality, with a simple ai-based app connected to the cloud.
iOS: iOS 11 or above
Android: Android 4.4.2 or better devices with the following features: x64 and ARM. 
Application
Clarius C3 HD convex probe has a wide range of usage. It can work on multiple organs. Usually, this device is ideal for 
1. Abdominal. 
2. Cardiac.
3. Lung.
4. OB/ GYN.
5. Vascular.
Price:
one-time purchase: 4900 USD
Advance software:
  MSK Package
 1200 USD
 OB Package
 1200 USD
  Primary/Critical Care Package
 1200 USD
Benefits:
1. Wireless:
Consistent connection. Complete freedom. Cleaning and sanitation are quick and straightforward when there are no cords.
2. Cloud Storage
With unlimited Clarius Cloud storage, you can manage your exams and create reports from anywhere, at any time.
3. User friendly:
An easy-to-use artificial intelligence-powered app for your Apple or Android device automatically delivers the best imaging.
4. High-Definition
Best-in-class imaging is delivered by High Definition Artificial Intelligence, eight beamformers, and 192 piezoelectric elements.
5. Ultra-Portable
Clarius HD is perfect for small spaces and fits perfectly in your pocket. Take it along with you wherever you go.
Fast imaging specialized with dedicated presets and workflows Provides the best experience possible in your field.
6. Keep cool and scan for a more extended period.
Clarius HD3 is now sleeker and lighter, with an integrated rechargeable battery, allowing you to scan even when you don't have a reliable source of power nearby. All scanners come with a charging point with a grab-and-go design. Fast charging only takes 90 minutes and gives you 60 minutes of monitoring time. The new and improved Quad-Liquid-Cooling system has doubled the cooling ability to keep imaging and battery performance high. And, with the forthcoming Powerfan, power users will be able to scan indefinitely.
7. Disinfection is simple.
Clarius has an IP67 rating, which means it is water-resistant and fully immersible for decontamination. Examine the extensive list of cleaners and antiseptics approved for use with the Clarius scanner.
8. Enclose the whole scanner
Place Clarius in a sterile bag to prevent contamination because there are no cords.
Lumify C5-2
The Lumify C5-2 curved array transducer offers high-resolution imaging for more profound applications, including preset optimizations for abdominal, gall bladder, Ob/Gyn, and lung imaging. Lumify brings you countless real-world applications in real-time, thanks to a battery-free transducer for lightweight control, a fast teamwork platform, and convenient data sharing connectivity. A carry bag, USB-C and Micro-B cables are included.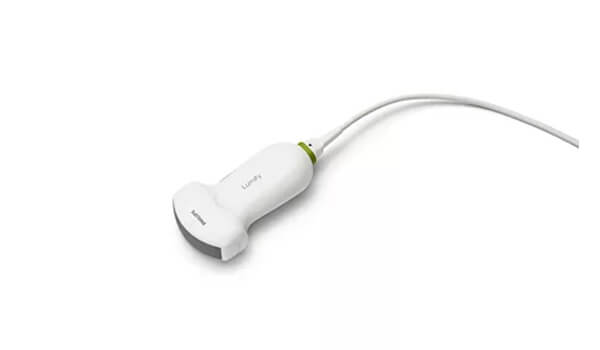 Benefits
Long scanning time
A continuous scanning capability of 2-5 hours provides constant clarity in the most critical situations.
Versatile
Lumify is a versatile device with a detachable cable that allows you to replace damaged lines and keep up with ever-changing digital devices.
Lightweight
Lumify's battery-free transducers, which weigh less than 136 grams, provide lightweight control for ease of use and ultimate portability.
Always Up to Date
We'll keep you up to date by putting all of our latest features at your fingertips with ongoing app updates.
Rapid imaging time
Lumify enables you to send and share images, notes, and diagnostic data in real-time. Email, a shared network, DICOM to PACS, or a local directory are all used to deliver data. The user is responsible for adhering to patient data privacy laws.
Application:
Lumify C5-2 convex probe has a wide range of usage. It can work on multiple organs. Usually, this device is ideal for 
1. Abdominal. 
2. Cardiac.
3. Lung.
4. OB/ GYN.
Specifications
Imaging characteristics
SonoCT, 2D, colour Doppler, M-mode, XRES, and multivariate harmonic visualization
Footprint 
50 mm
Field of view
67.3 Degree
Bandwidth
5-2 MHz
Scan Depth
30 centimetres
Price range:
$ 4,828 - $ 4,828
SIFULTRAS-5.49
A convex array Transducer is used in the Color Doppler Wireless Ultrasound Scanner SIFULTRAS-5.49. It has a frequency range of 2 to 5MHz, a depth of 18.9 cm, a view field of 60°, dimensions of 187mm x 72mm x 40mm for deep applications such as Abdominal, Lung, OB/Gun, Fast, DVT... and a weight of only 340g. Color Convex Ultrasound Probe SIFULTRAS-5.49 also has b mode, m mode, colour Doppler, power Doppler, and pulsed-wave capabilities.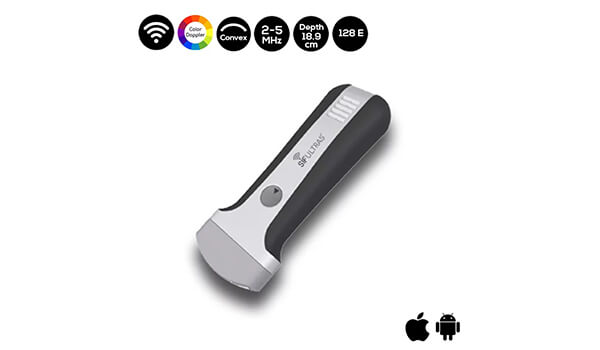 SIFULTRAS-5.49 Color Doppler WiFi Ultrasound Scanner is designed for large calculation algorithms to create B-mode and colour mode. Furthermore, SIFULTRAS-5.49 includes WiFi, which connects to your mobile device and your scanned images.
Furthermore, Color Doppler WiFi Ultrasound Scanner SIFULTRAS-5.49 has an exceptional Ultrasound Image of Block Algorithm, which can demodulate high frequency, high contrast, high resolution, and uniformly B-mode/Color image. SIFULTRAS-5.49 ensures a high-performance, dependable ultrasound imaging system solution.
Color Doppler Wireless Ultrasound Scanner SIFULTRAS-5.49 has a wide range of applications, including Abdominal, Lung, OB/Gun, Fast, DVT, Gastric, Bladder and Heart, Vascular Access, and Superficial.
Applications:
●Abdominal
●Lung
●OB/Gun
●Fast,
●DVT 
●Heart
●Vascular Access
●Superficial.
Specifications:
·        Array Type: Convex Ultrasound Scanner
·        Depth: 18.9 cm.
·        Bandwidth: 2.0 -5.0 MHz.
·        Angle of view: 60°
·        Channels: 32 Channels ADC System.
·        Using Time: To 4.5 Hours.
·        Dimensions: 18.7cm x 7.2 cm x 4 cm.
 Benefits:
1.Wireless: IEEE 802.11 b/g Hands-Free Expertise is supported.
2.B Mode, M Mode, Color Doppler, Power Doppler, and PW are fully functional.
3.More than 4 hours of endurance. Make Constant Use of Experience.
4.Ultrasound Imaging System with High Performance and Reliability
5.A Large Calculation Algorithm is Used to Generate Both B-Mode and Color Mode.
6.Ultrasonic Image of Block Algorithm Special Development.
VScan Air
Vscan Air+ Digital Tools expands your handheld ultrasound experience by connecting you to a suite of user-centric digital tools via our optional Vscan Air subscription.2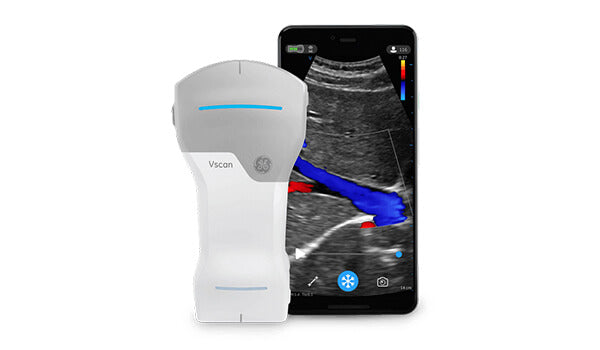 Application:
●Abdominal
●Lung
●OB/Gun
●Fast,
●DVT 
●Heart
●Vascular Access
●Superficial.
Benefits:
1.The images are clear—decisions based on information. With outstanding pictures at your fingertips, you can make quick treatment decisions and decide on the next steps. With accurate referrals, you can save your patients time and reduce the need for costly surgical surgery.
2.You don't have to sacrifice image quality for portability when using SignalMaxTM technology.
The dual-probe from Vscan Air employs the same piezoelectric transducer technology as GE Healthcare's leading ultrasound brands. This means that each side of the probe is specifically designed for the task.
3.From the first scan to the first confident use, we are here to help.
An intuitive app and educational tools, and an easy-to-use design can help you feel confident in your abilities. When you require assistance, our experts are here to assist you.
4.Dual probe with ergonomic design for whole-body scanning.
Dual probe technology allows for effortless scanning without switching probes between or during exams. It is intended to help you see more detail with no loss of image quality – whether deep within the body or just beneath the skin.
Specifications:
·        Array Type: Convex Ultrasound Scanner
·        Depth: 24 cm
·        Bandwidth: 2.0 -5.0 MHz.
·        Angle of view: 60°
·        Channels: 32 Channels ADC System.
·        Battery life: 50 mins
·        Recharge time: 75 mins
·        Dimensions: 131 mm x 40 mm x 31 mm.
·        Imaging Quality:  B mode, Color flow
Price: 
The starting price is 4,485 USD.
CPL Dual-head Premium
We introduced you to Drsono's new white head convex & linear probe. This curved transducer is the most effective tool for performing in-depth examinations. The best part is that its image resolution decreases as depth increases. Connecting with tablets and smartphones has introduced a new revolutionary change. Because of this feature, we can now give treatment to a wide range of patients with the most incredible precision.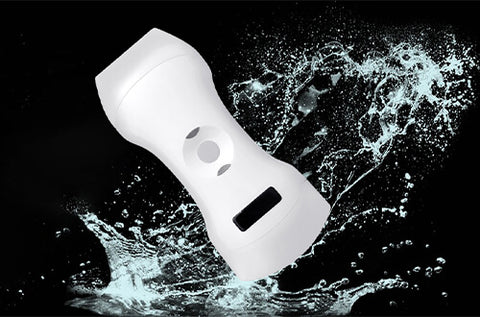 Specifications:
Elements 192
Frequency 3.5-5 MHz
Definition crystal clear
Display mode B, B/M, Color, PW, PDI
Scanning Depth 90-305 mm
Battery working time 3 hour
Weight 230 g
Image frame rate 18 f/s
Head length 6 cm
Scanning Angle 60 °
Image Save jpg, avi 
Working system: iOS, Android, Windows application
Applications:
1. Abdomen
2. Gynaecology
3. Obstetric
4. Cardiac
5. Urology
6. Kidney
Benefits:
1. For crystal clear images, futuristic technology is used.
2. Easy to use: Intuitive Design. It is simple to connect.
3. Surprisingly affordable
4. It works offline and includes a built-in WiFi signal.
5. Useful for the emergency, clinic, outdoor, and veterinary inspections.
6. Very user-friendly. No membership is required.
7.No cloud storage, no privacy protection. Data should be saved on your device.
8. Portable and pocket-friendly
It's small enough to fit in your pocket and take wherever you go.
9. Excellent Image Quality
Because of advanced imaging technology, the images are of exceptional quality.
10. Comfortable Communication
Remote diagnosis is now possible thanks to smartphone and tablet compatibility.
11. Waterproof Construction
The entire probe is protected from splashes of water.
12. Medical Instrument with High Precision
As a visual precision medical tool, it aids in improving medical staff work efficiency, reduces labour intensity and work pressure, reduces diagnosis and treatment errors, complications, and sequelae, and avoids medical accidents and medical disputes.
13. Effective Remote Diagnosis
The Product's powerful remote diagnosis function provides users with expert advice. It can also use the h level of small experts to attract patients to the grassroots for treatment, thereby promoting hierarchical diagnosis and treatment.
Price:
This is the most affordable Product on this list. 
It cost only 3625 USD
Which one should you choose?
From above, we learn about different types of ultrasound scanners in detail. You can make a guess already which one is perfect for you. There are various parameters in which these scanners have their expertise. 
We can clearly say Clarius has a clear edge over other products for depth of scanning. 
In case of versatility, Vscan+ can take the lead. 
But looking at the larger picture, we can conclude that the CPL dual-head premium gives you a clear advantage from an overall point of view. 
This scanner is affordable, easy to use and offers a variety of features that no other product can. 
But again, customers' experience with the Product give them a sense of trust. You can be your judge and choose which one works best for you. 
The entire world is becoming wireless. Wires will soon become a myth as well. You'd be a moron if you still used a wired ultrasound scanner to get the job done in this wireless age.
As demonstrated in this article, wireless ultrasound scanners have numerous advantages over traditional wired ultrasound scanners. When compared to wired ultrasound scanners, wireless ultrasound scanners are less expensive. Patients can also use a wireless ultrasound scanner to scan their bodies.
In comparison to its benefits, its drawbacks are minor. Yes, you may have difficulty completing your tasks, but these disadvantages will not keep you in an optimal situation for long.